Thermal Night Vision Technology Push Forward the Autonomous Driving
Advances in technology have driven economic development and productivity leaps, also changed our daily life, especially in the way we travel. From the days of horse-drawn carriages to the revolutionary electric cars, automobiles have come a long way and bring a faster, farther and safer travel experience.

With the technical innovation in auto industry, autonomous driving has become an important development direction. By 2040, the estimated global market volume will grow to 3.1 billion units.
SAE (Society of Automotive Engineers) have defined six levels of autonomous driving from L0 to L5. The higher the level, the less input and oversight is required from a human driver, the higher the requirements to driver assistant function such as environment detection.
According to the type of perceived environment, it could be divided into dynamic and static environments. Pedestrian detection under dark, glare and haze environments has been a challenged difficulty in this industry. According to incomplete statistics, nearly 30% of traffic accidents occur in harsh environments.
Thermal night vision technology was introduced into vehicle sensor system in the early 21st century and now it has been successfully applied in L2, L3 and L4 ADAS system with its unique thermal sensing ability that can detect pedestrian and vehicles more efficiently. In the future, it will also be the key technology to accelerate the development of full self-driving.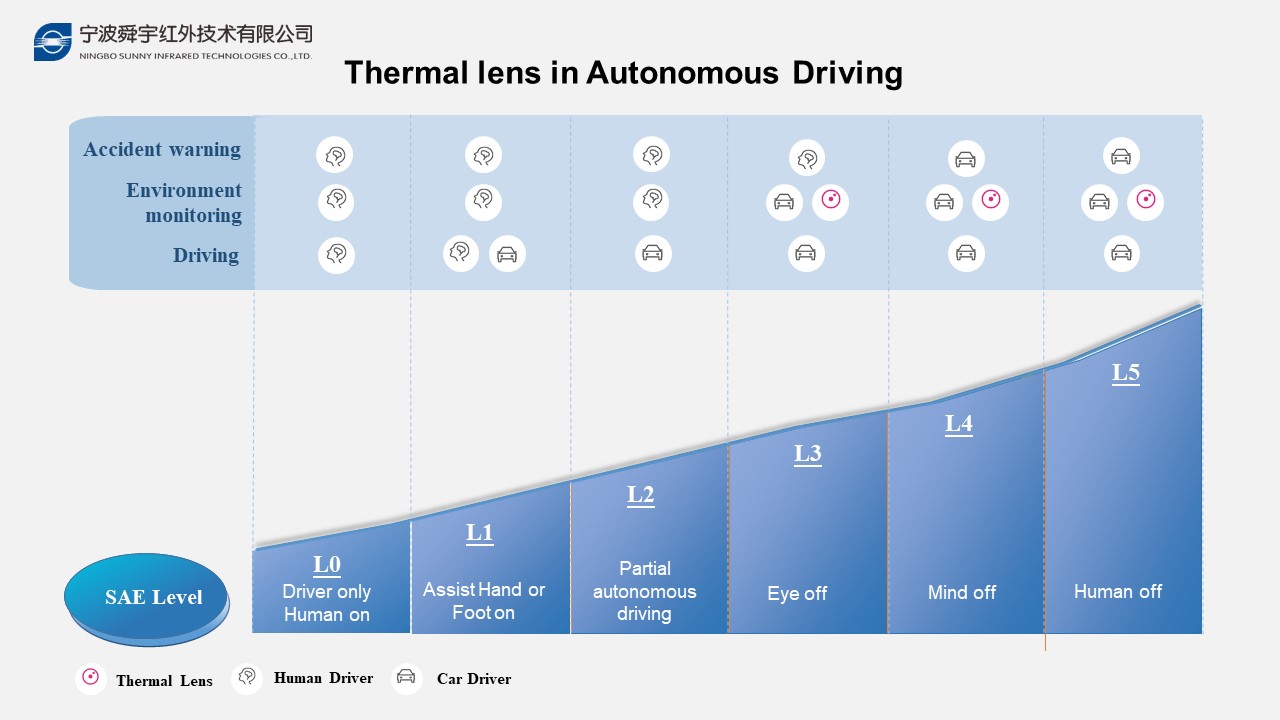 Thermal Infrared Contribute to Security Detecting in All Conditions
Autonomous vehicle usually choose to install a redundancy sensor of environment perception that can comprehensively detect surroundings and collect information to achieve a higher level of autonomy and safety when driving and parking. The current mainstream perception systems include millimeter wave radar, laser radar, ultrasonic radar, visible camera, thermal imaging technology, etc. Significantly, thermal imaging has become the preferred solution in recent years with its unique thermal sensing ability. Compared with other sensor solutions, thermal imaging technology has a strong performance of smoke and dust penetration. Even in the dark, glare, haze, dust and other severe weather, it can still effectively detect pedestrians, animals, vehicles that fully compensate for the deficiencies in monitoring and avoidance function of traditional system like AEB, BSD, which provides a really safety experience for intelligent driving.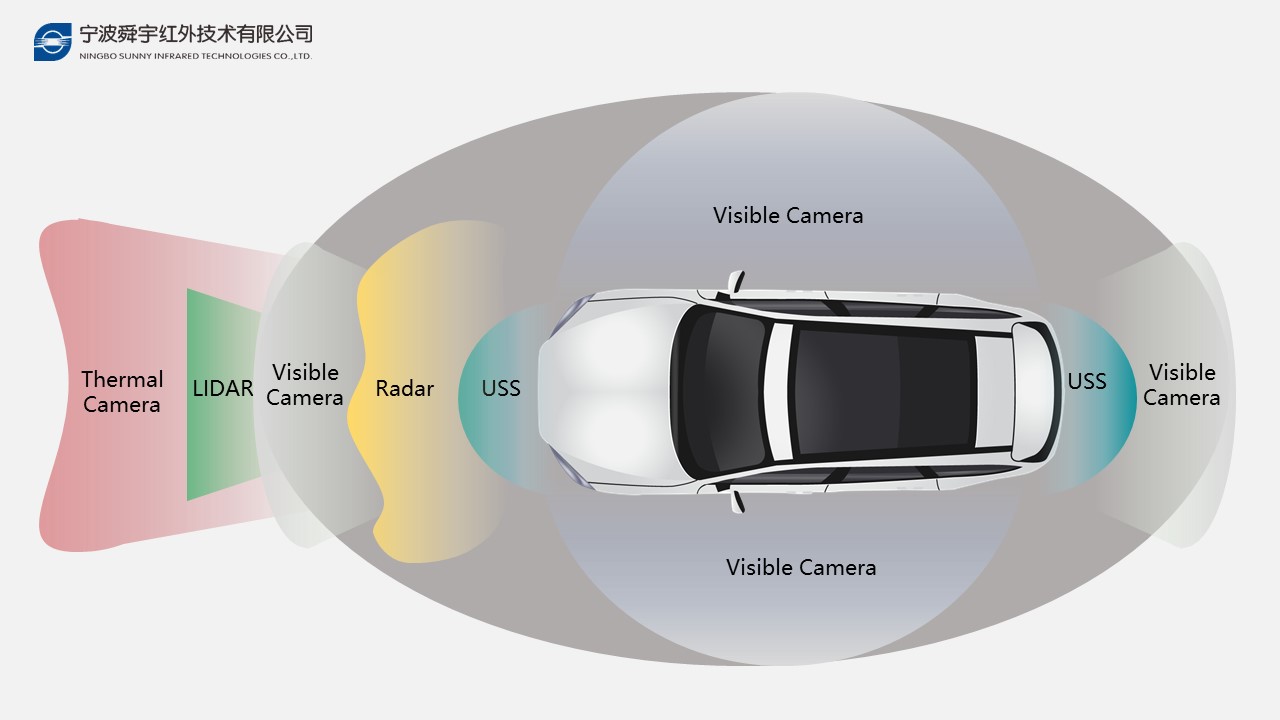 One-stop Thermal Night Vision Lens Solution——Customized Service
Sunny Infrared Optics has nearly 20 years of automotive & optics industry experience, with three core advantages, became the leading night vision lens supplier.
Specialized design and performance:

- Diffraction limit design with solid stability of optical performance.
- Minimum mechanical components to achieve maximize cost effective.
Mature quality control and management system
- Automotive-grade quality system, ISO9001 & IATF16949 certificated.
- Expert grade laboratory (CNAS) with over 30 varieties reliability test.
Integrative supplier chain and capacity
- One stop infrared lens solution from material manufacturing (chalcogenide glass) to lens assembling.
- Leading high precision molding technology and high-automated production line guarantee sufficient production capacity (millions unit assembly/year).