Chalcogenide glass is the most popular material for mass production of infrared lenses. Because it has stable refractive index, abundant resources, high transmittance at wide infrared waveband and it is suitable for mass molding production which is cost-effective.
However, the hardness of Chalcogenide glass limits its applications, especially in some harsh environments.
In early 2022, the coating team of NINGBO SUNNY INFRARED TECHNOLOGIES Co.,Ltd. has successfully developed the new generation film - SDLC. It is a crucial breakthrough of coating on Chalcogenide glass. By improving the abrasion resistance and other performance of the film, it fills the gap of chalcogenide glass application restrictions in various harsh environments.
The specific advantages are as follows:
⚫Black surface, as Ge-based DLC.
⚫Higher transmittance compared with DLC.
⚫Achieved high abrasion resistance, significant improvement compare to other film on the market.
⚫Reliable, can be used for various harsh environments.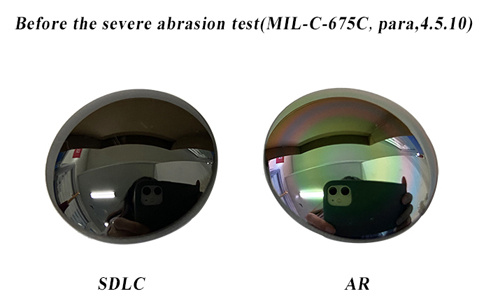 So far, SDLC of Chalcogenide Glass has been applied to forest fire prevention, outdoor monitoring and other complex environments. By the great performance, it has gained perfect reputation and feedback during customers.
To provide the best solutions of infrared lenses, SUNNY INFRARED OPTICS will continuously commit itself to technology innovation and exploration.